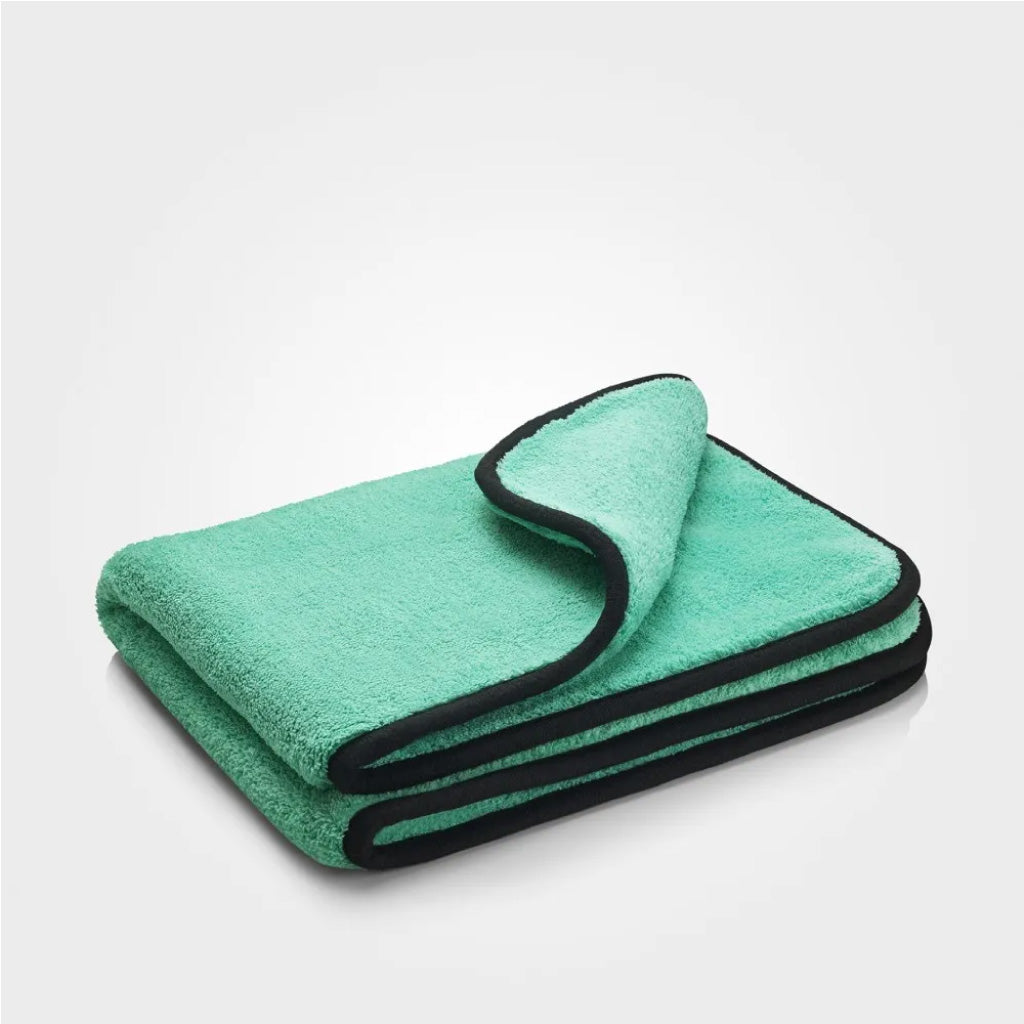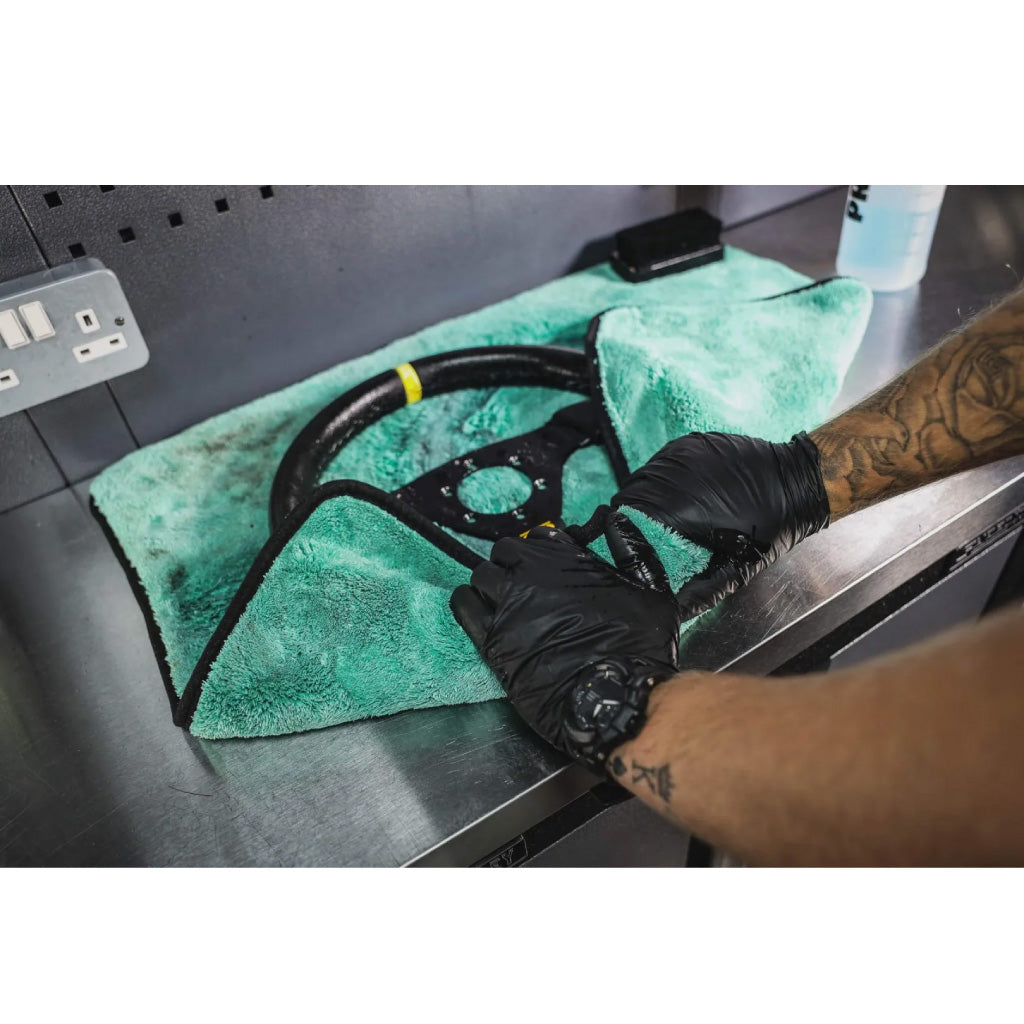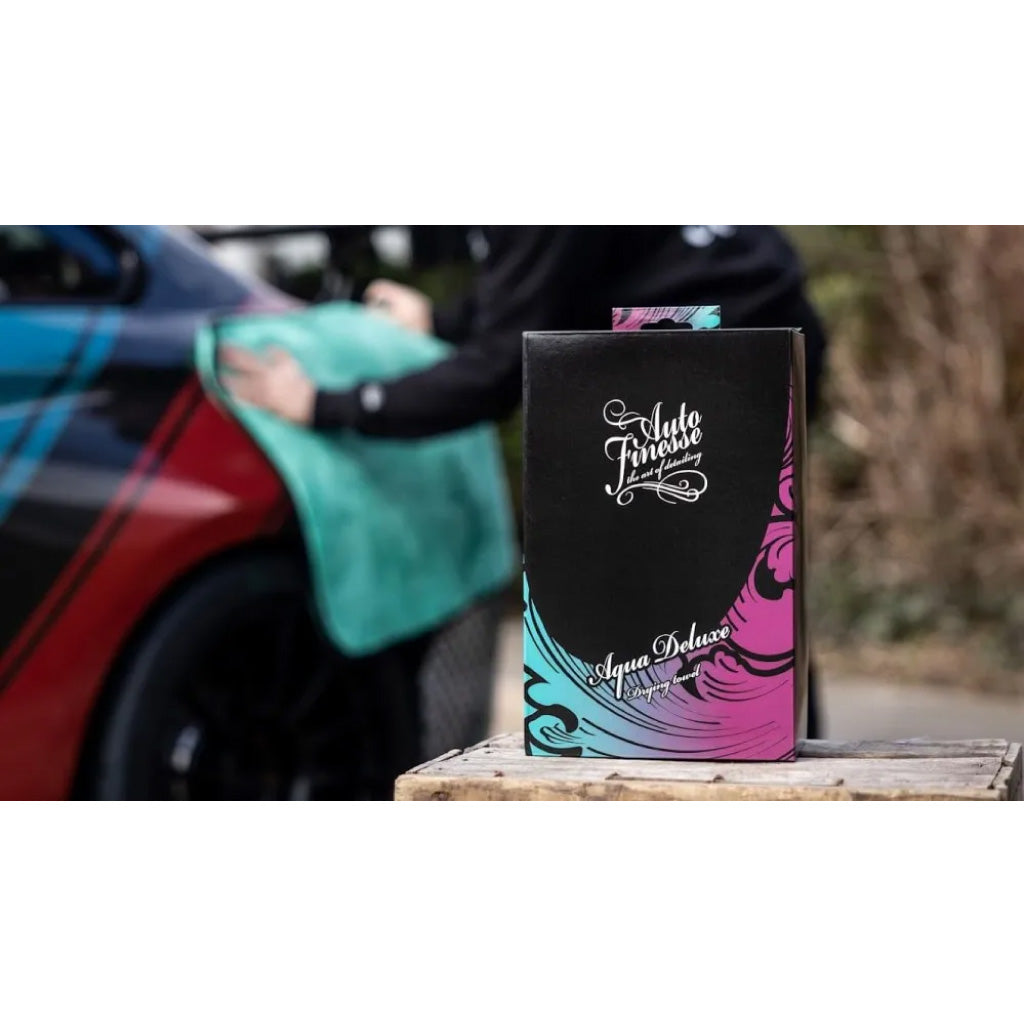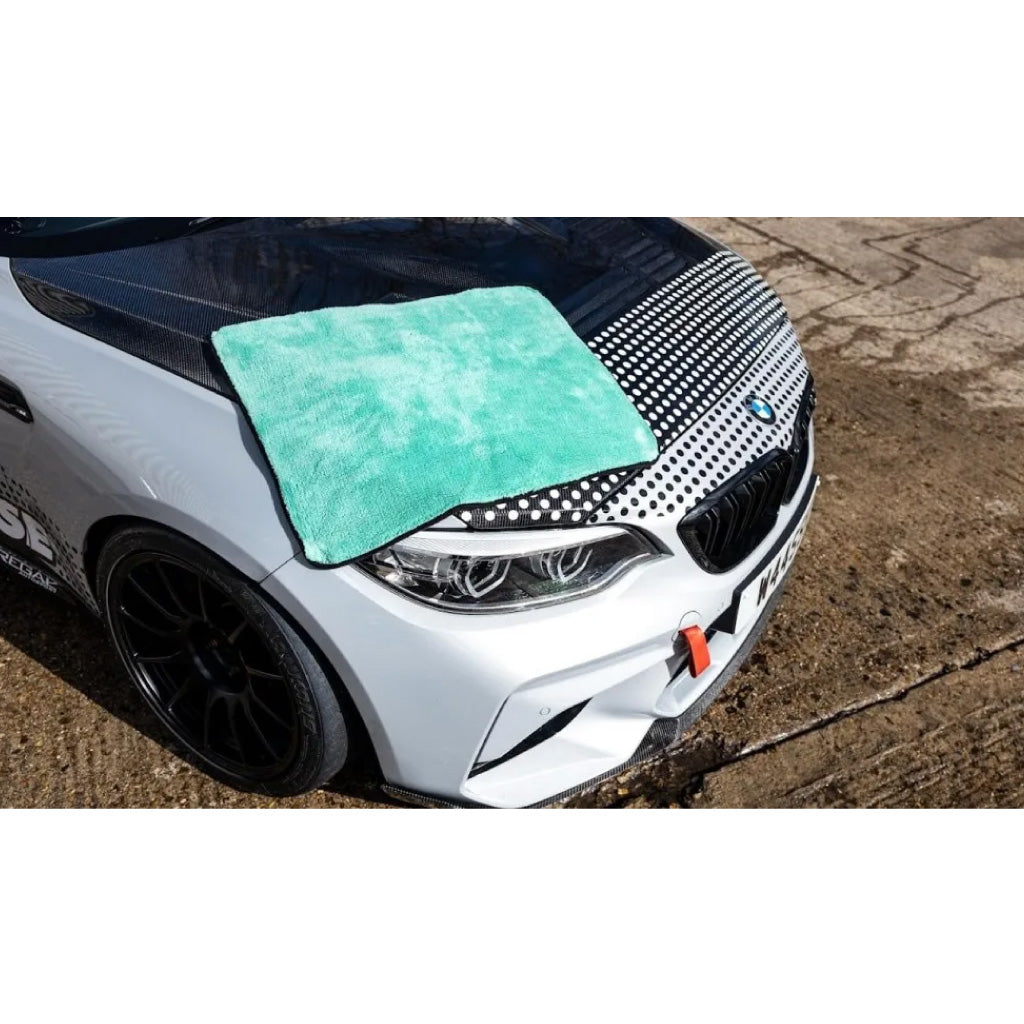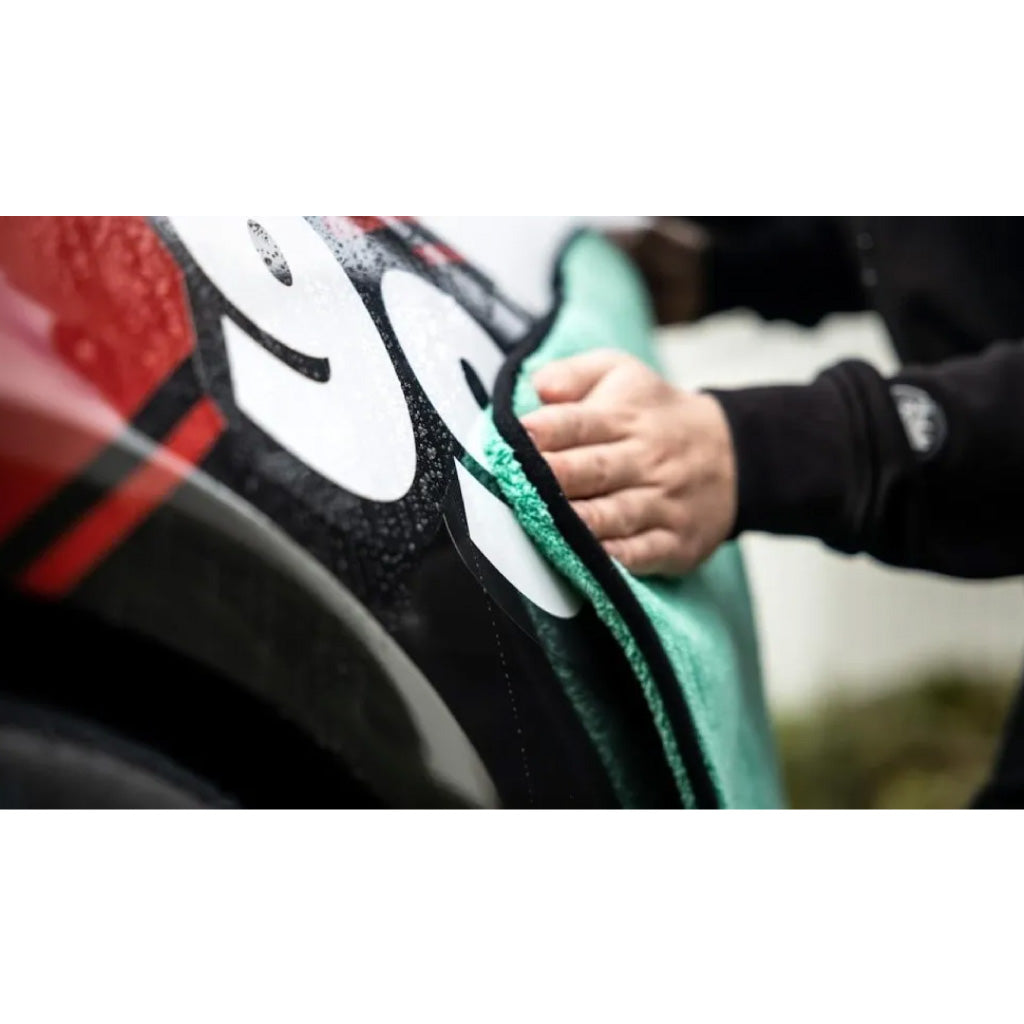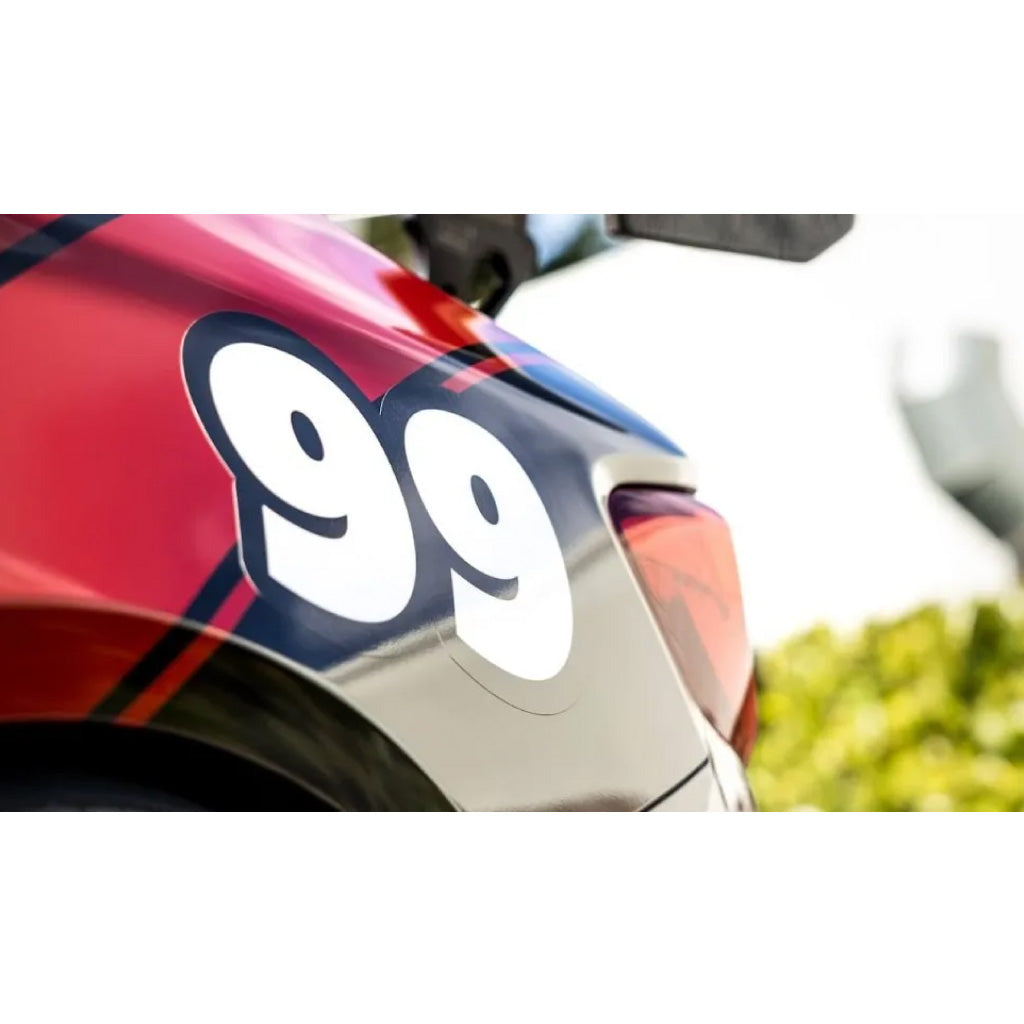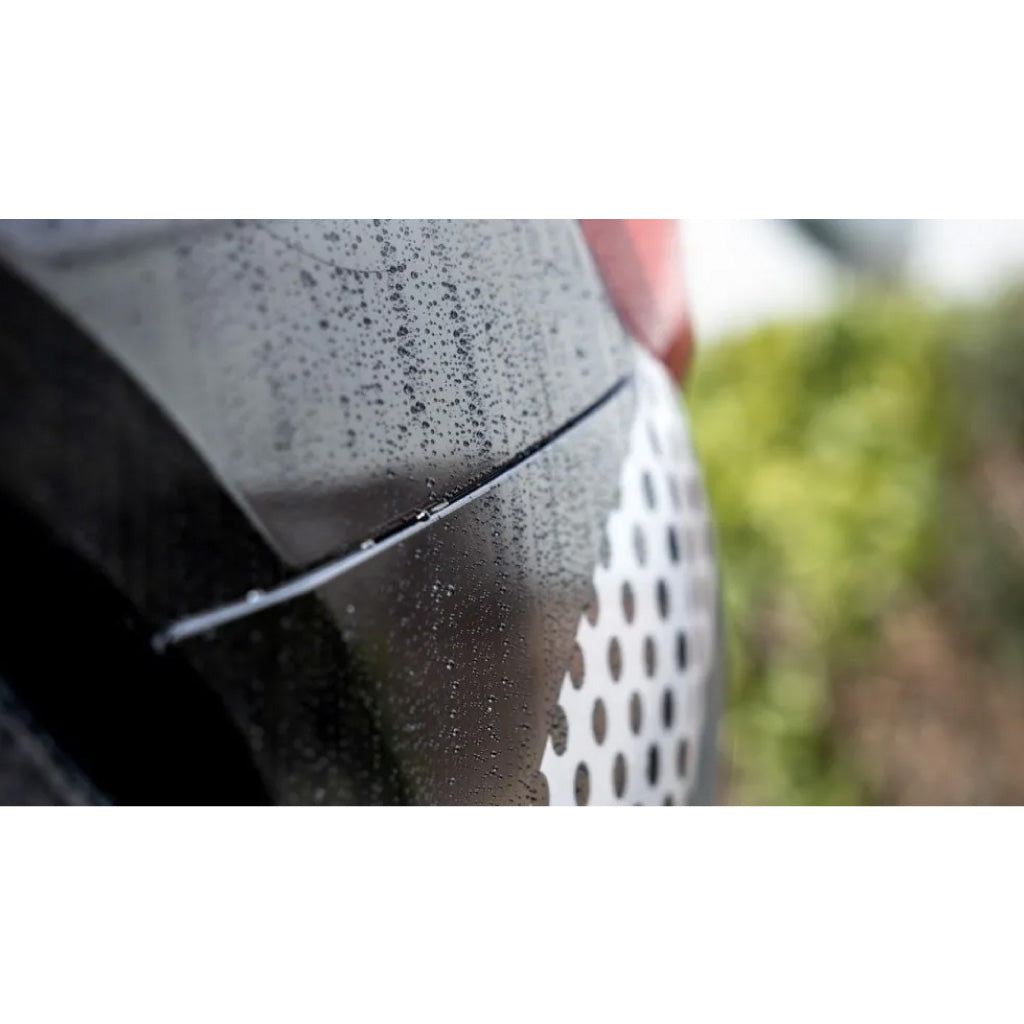 Auto Finesse Aqua Deluxe - Drying Towel - 700x500mm
The ultimate luxury microfibre car drying towel, Auto Finesse® Aqua Deluxe is constructed from ultra-dense 1200GSM pile microfibre which smoothy glides over paintwork and glass, and features a super-absorbent inner core to soak up water fast!
Safe and non-scratching on all exterior surfaces, this super-plush, 700 x 500mm towel has been engineered to not only make the drying process as quick and effortless as possible, but to keep your paintwork and gloss plastics swirl-free for longer, too.
It's crucial to dry glass, paintwork and trim after every wash to prevent the spotting caused by impurities and mineral deposits in tap water (the water you've likely used to clean your vehicle), this can be especially prevalent in hard water areas. Unlike rainwater, which is relatively pure, these impurities are nearly always present in unfiltered tap water and leaving vehicles to air-dry will quickly transfer these heavy deposits onto exterior surfaces. Using a dedicated, and super-absorbent microfibre drying towel is the only way to absorb these contaminants along with the water, keeping them away from surfaces and eliminating risk of scratching.
With Auto Finesse® Aqua Deluxe range, the key to this absorption is in the deep-pile microfibre. Although we use the word 'microfibre' as generalised term for an entire towel, it actually refers to the individual fibres. By definition a microfibre must be finer than 1 denier, and for automotive use we use fibres around 0.2 denier (about 200 times thinner than a human hair). These fibres are split during manufacture making them finer, giving them a larger effective surface area and make them even more absorbent. GSM - which stands for grams per square meter - denotes the density, or weight, of any cloth. Lower density cloths, like our 300GSM, short pile Work Cloths, are soft and durable, and lend themselves to general cleaning tasks, while higher GSM cloths are engineered for increased absorbency and durability – putting the 1200 GSM Aqua Deluxe right at the top of the tree.
The Aqua Deluxe drying towel is perfectly sized to complete a whole large vehicle - including estate cars, SUVs and pickups - in a single sitting. It also features special machine stitched, scratch-less edging for extra safety on the most sensitive surfaces and to offer extreme durability, making this product suitable for machine washing, and for car detailing use time and time again.
Find out how this product can be used to clean your steering wheel here.
Brand

: Auto Finesse

Made in

: Great Britain

Auto Finesse are the car care range designed, developed and trusted by professional car detailers since 1999. Originally named JB Valeting Service, Auto Finesse started off by offering a mobile valeting service to Hertfordshire, Essex and the greater London area in the late 90's.
After a rebrand, the Auto Finesse Essence changed, moving to more in-depth detailing services, pushing boundaries on new and exciting services for luxury cars.
Subsequently, after years of servicing, Auto Finesse Products finally launched in 2011, covering the basics from Auto Finesse wax to polish for car users to get their hands on. As the success of the Auto Finesse Kit's grew, so did the products, with the brand launching and continually developing new and exciting car detailing products and accessories - such as the Auto Finesse Drying Towel and Microfibre lines.
Now servicing not just Greater London but Europe, Asia and the US, Auto Finesse products are the most expansive detailing brand in the world, holding a special place in the hearts of car lovers.