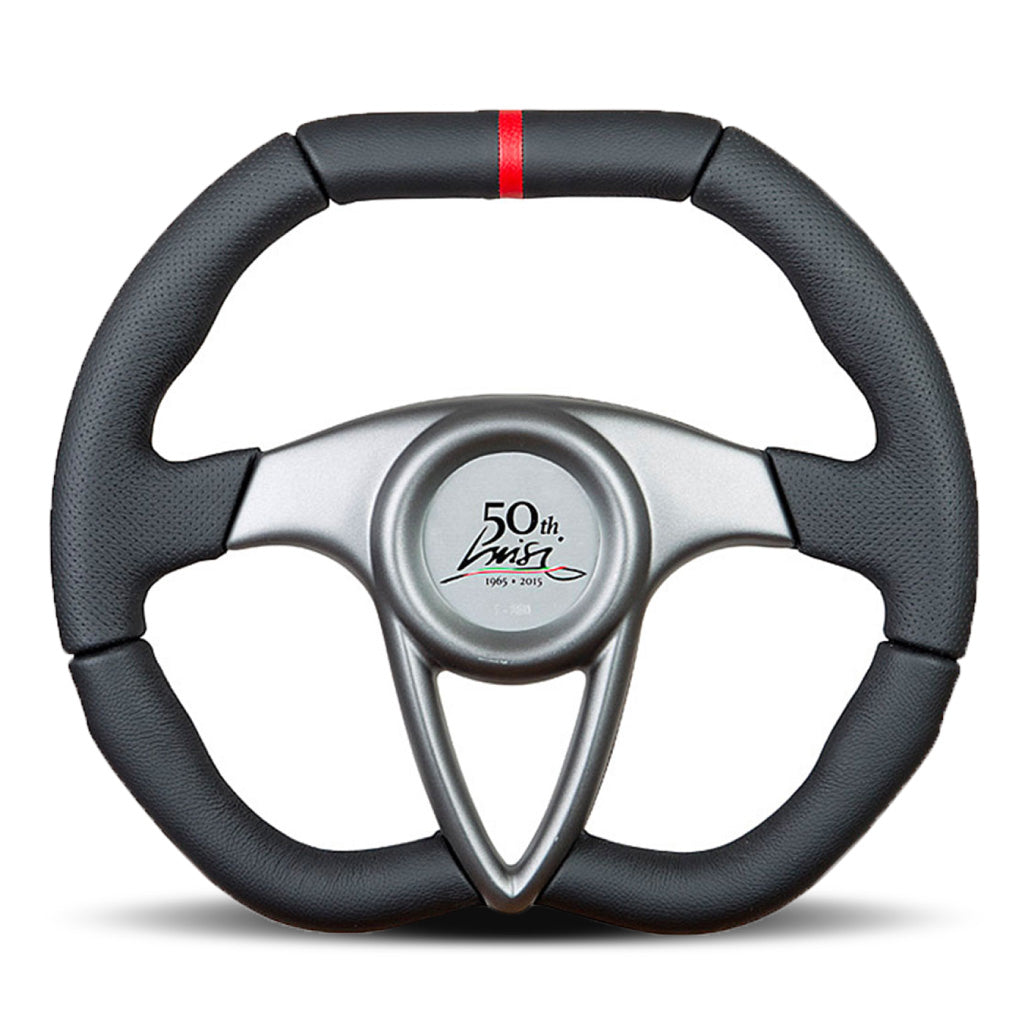 Luisi 50th Anniversary Steering Wheel - Black Leather With Silver Centre Cover 350mm
On backorder
To install this steering wheel in your car, you will need a hub/boss kit. Click the button below to find the right one for your vehicle.
Limited edition Luisi 50th Anniversary steering wheel is wrapped in genuine perforated black leather, which is handcrafted in Italy. Grey plastic centre cover highlights the horn button with Luisi 50th Anniversary logo.
Luisi 50th Anniversary steering wheel is also personalized with serial number.

This is amongst the highest quality steering wheels on the market, all manufactured and checked by hand by Italian craftsmen.
Compatible with hubs that support a 6 bolt pattern with 74mm PCD
Brand

: Volanti Luisi

Diameter

: 350 mm

Dish Depth

: 0 mm

Grip Material

: Leather

Grip Colour

: Black

Stitching

: Seamless

Spoke Colour

: Silver

Spoke Quantity

: 3

Shape

: D-Shape

Steering Wheel Fitment

: 6x74 mm PCD

Made In

: Italy
Steering wheel
Horn button

Volanti Luisi S.R.L. was founded by Mr. Vincenzo Luisi in 1965. Thanks to the choice of the best raw materials and advanced plastic materials, Luisi products manage to climb in a few decades the market establishing itself as one of the Industries of the Sector Leader. Increasingly Large Automotive Names and Water approach the Luisi productions that over the years spans a wide selection of models and accessories from both the Design Refined that Sportsman. The attention to details and craftsmanship placed at every stage of the design and processing gives the Company the important ISO 9001: 2000 certification from RINA.
The Volanti Luisi Ltd selects the best leather and the best wood to create objects that adorn the interior of each car and enhance driving pleasure. Refined or sporty design, sober and discreet colours, or young and vibrant: a variety of models that share the craftsmanship in the realization and the attention to detail typical of the product designed and manufactured entirely by Italian workers for the quality of the signature Luisi.
All Volanti Luisi steering wheels are CE marked.