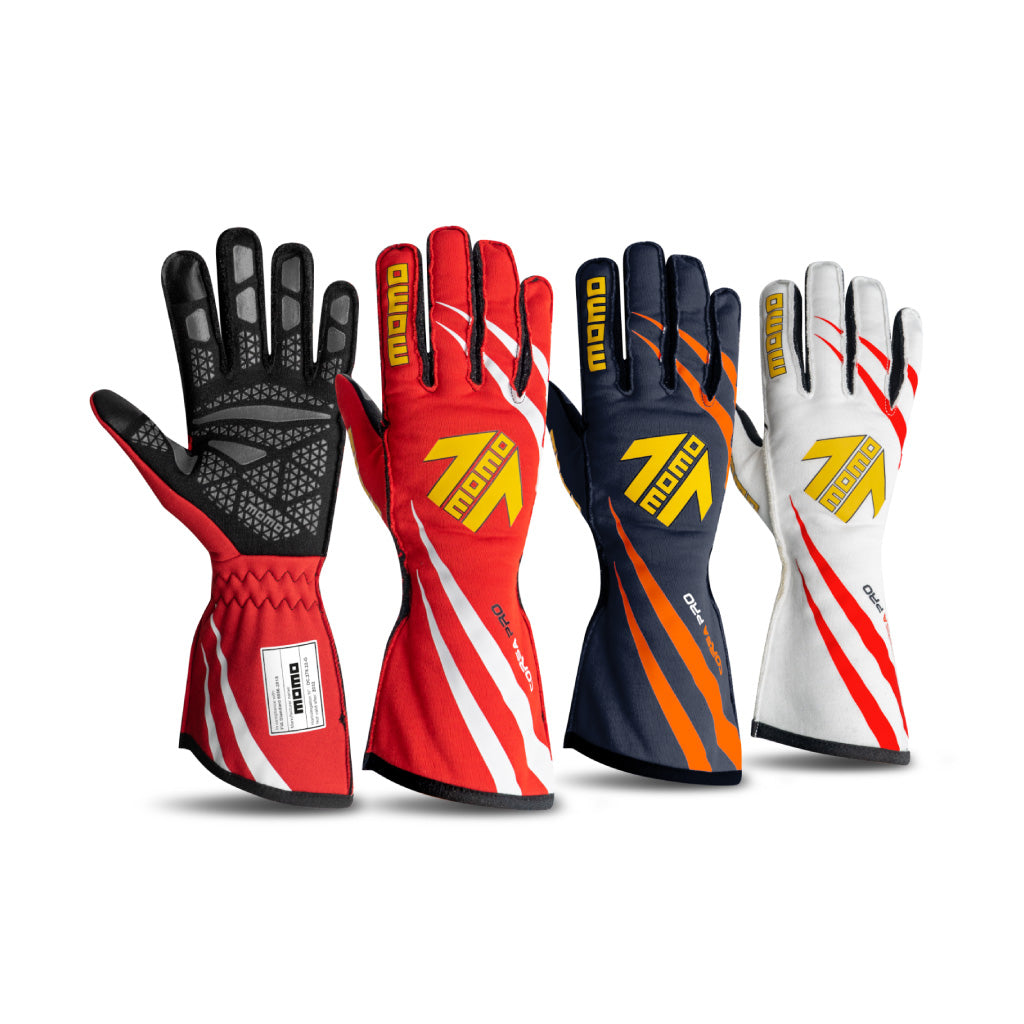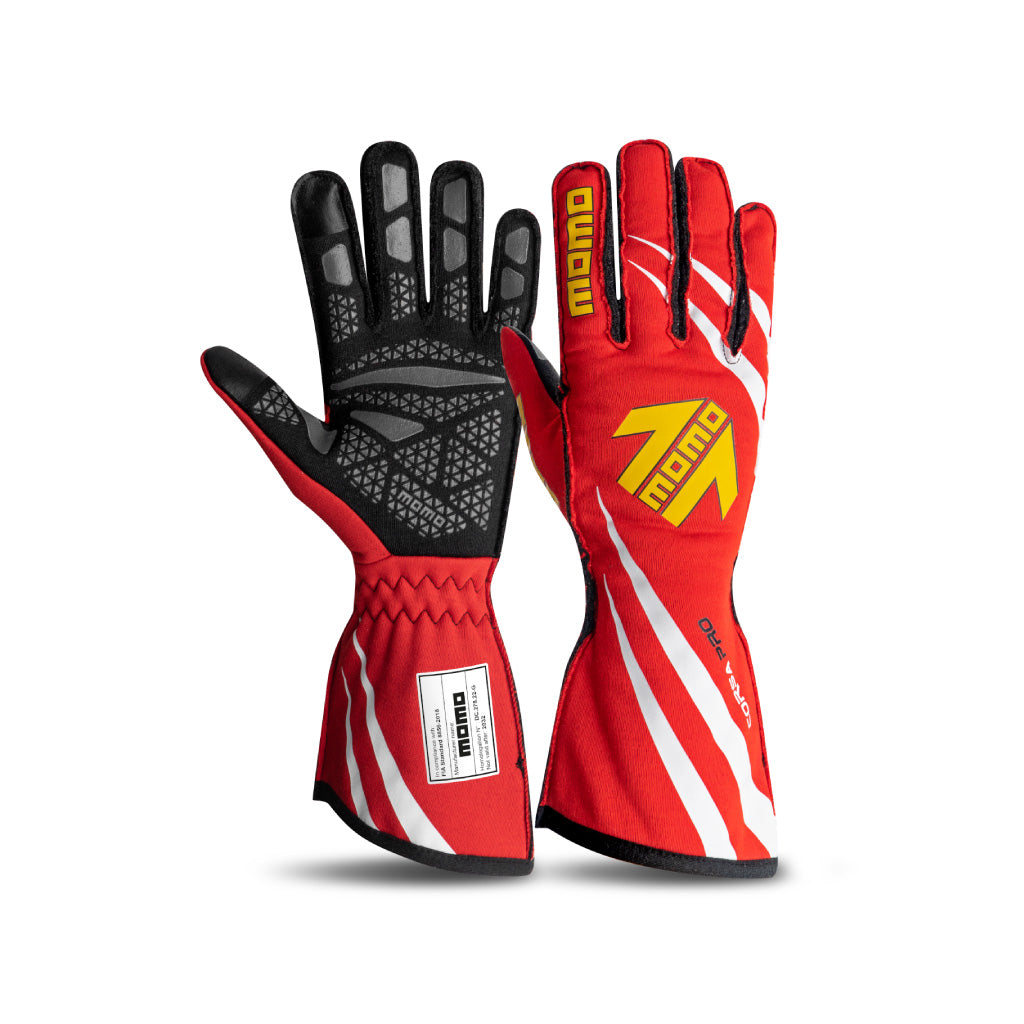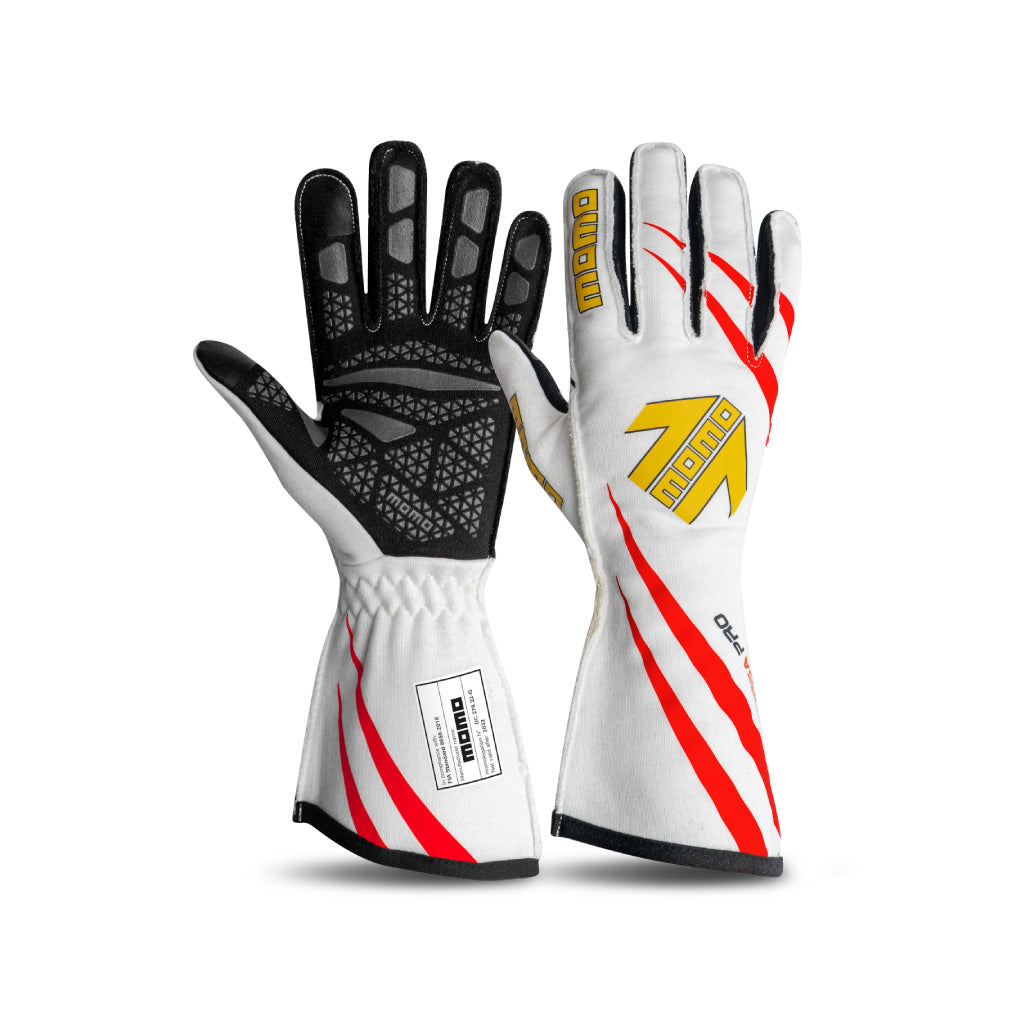 MOMO Corsa Pro Racing Gloves
MOMO's newest fireproof racing glove, the Corsa Pro is designed to deliver exceptional performance and comfort in even the most extreme driving conditions, making them suitable for track, drifting, off-road and e-racing.
Anatomically correct, pre-curved finger construction helps to minimise fabric bunching. Whilst the one-piece palm construction with a silicone grip, external stitching and advanced engineering keep the glove comfortably in place while alleviating pressure points and abrasions.
The forefinger includes a touchscreen compatible grip allowing use of a smartphone whilst wearing the gloves.
Complying with the latest revision of the FIA 8856-2018 regulations, increasing the heat resistance time from 8 seconds to 9.5 seconds for the palm, and from 11 to 13 seconds for the rest of the glove!
100% handmade in Italy.
Features:
FIA 8856-2018 homologation, including the latest 2022 revision for a higher heat resistance
Touch screen functionality
Outer seams, with the exception of the thumb, which has inner seams for better touch screen functionality
Maximum wearability comfort, thanks to its pre-curved structure
Maximum grip thanks to the palm silicone inserts
Brand

: MOMO

Material

: Nomex

Colour

: Night Navy, Red or White

FIA Approval

: 8856-2018

Made in

: Italy
Founded in 1964, MOMO Italy, is a company renown for its unique designs, superior quality, maximum safety standards and technological innovation in the automotive industry worldwide.
It all started with the passion of racing and gentleman race car driver Gianpiero Moretti, whose understanding and true passion for motorsports led to the creation of products that understood drivers' real needs. The same principles and believes still live in MOMO today, making sure we always deliver optimum and innovative automotive products for competitive drivers and auto enthusiasts like you.
Momo has brilliantly carried on the business of developing innovative racing products, incorporating ambitious technological goals and continuing to improve the quality, safety and the superior design of Momo products. An example of the goals achieved by the Company was the exclusive supply of Momo steering wheels for the GP2 Championships in Europe and Asia. More recently in the US, Momo has developed a new generation of steering wheels for NASCAR, which are currently used by many top teams and drivers.
Click here to download the latest MOMO catalogue.