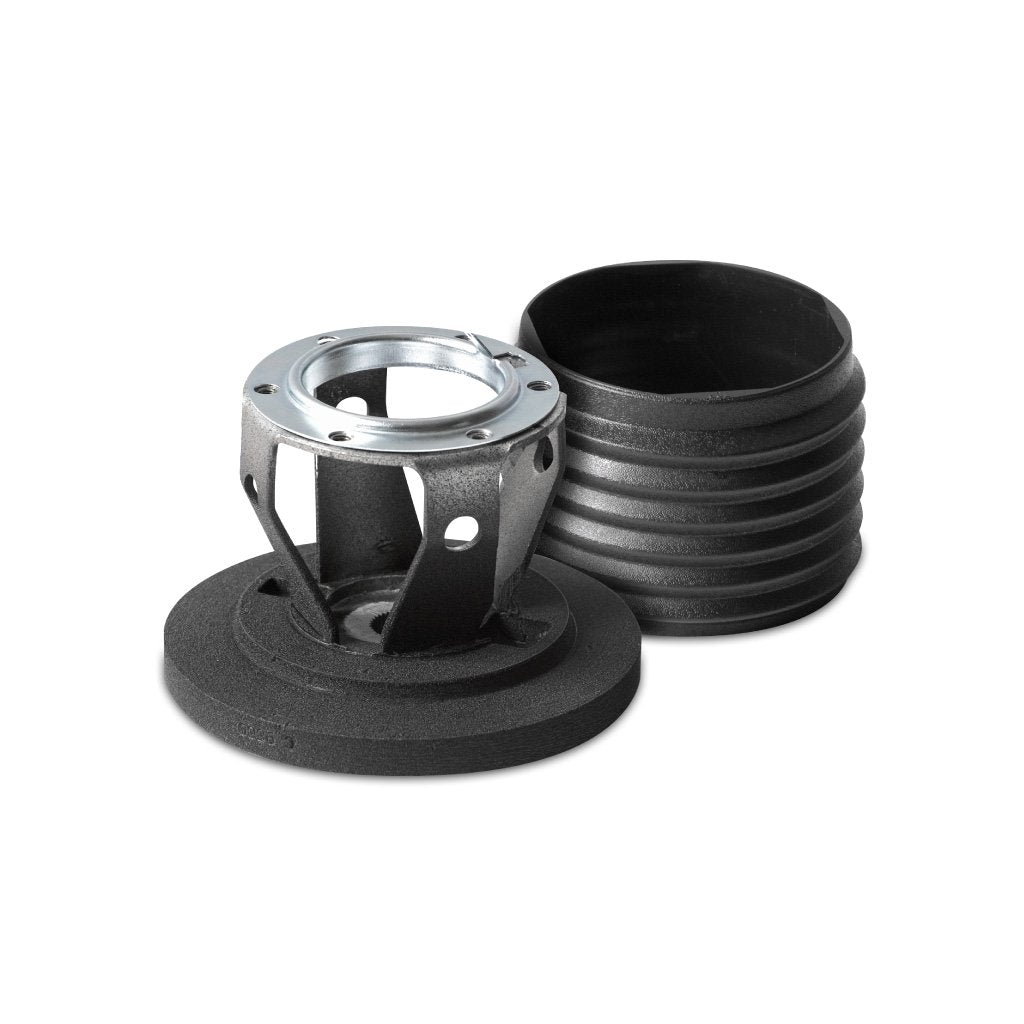 MOMO Steering Wheel Hub Boss Kit Adapter C8010 Audi Fox >1979 and onwards< Without Airbag
This adapter will allow you to mount your 6-bolt MOMO or other 6x70mm pattern steering wheel to the steering column on your Audi Fox.
MOMO steering wheel hubs are made to fit a wide variety of domestic and imported cars and trucks. The MOMO hub design is unique in the industry. Most factory steering wheels have "break-away" outer rims that are designed to collapse in case of an accident, reducing the risk of injury to the driver. MOMO (and most other aftermarket wheels) have much stronger outer rims that will rarely collapse. To compensate for this, MOMO steering wheel hubs are engineered to be collapsible in the case of an accident. The unique tower design of the hub kit allows a "crush zone" much like the front end of a car that adds an additional safety factor to the driving environment. Designed to collapse upon impact, MOMO steering wheel adapters exceed all safety standards including the ultra-strict German TUV.
Included:
Fixing screws
Allen key
Horn button retaining ring
Air bag resistor (if applicable)
PLEASE NOTE: The replacement of the steering wheel on cars equipped with airbag systems will disable both the functioning of the airbag system of the driver and any other airbag fitted to the car. For cars equipped with airbag systems, Momo Boss Kits are intended for racing use only.
WARNING: Do not attempt to install this kit yourself unless you have been properly trained in the installation and maintenance of car steering wheels and please ensure you have previously read the instruction manual. Incorrect installation can lead to a steering wheel failure which can cause an accident resulting in serious personal injury or death.
Please be aware that product images shown are not vehicle specific, the images are for illustrative purposes only.
Brand

: MOMO

Alternative Product Number

: C8010

Hub Adapter Fitment

: 6x70 mm PCD

Make

: Audi

Model

: Fox

Year

: 1979 and onwards

Airbag

: Without Airbag

Made In

: Italy
Steering wheel hub adapter
Screws and an Allen key for installation
Standard retaining ring

Founded in 1964, MOMO Italy, is a company renown for its unique designs, superior quality, maximum safety standards and technological innovation in the automotive industry worldwide.
It all started with the passion of racing and gentleman race car driver Gianpiero Moretti, whose understanding and true passion for motorsports led to the creation of products that understood drivers' real needs. The same principles and believes still live in MOMO today, making sure we always deliver optimum and innovative automotive products for competitive drivers and auto enthusiasts like you.
Momo has brilliantly carried on the business of developing innovative racing products, incorporating ambitious technological goals and continuing to improve the quality, safety and the superior design of Momo products. An example of the goals achieved by the Company was the exclusive supply of Momo steering wheels for the GP2 Championships in Europe and Asia. More recently in the US, Momo has developed a new generation of steering wheels for NASCAR, which are currently used by many top teams and drivers.