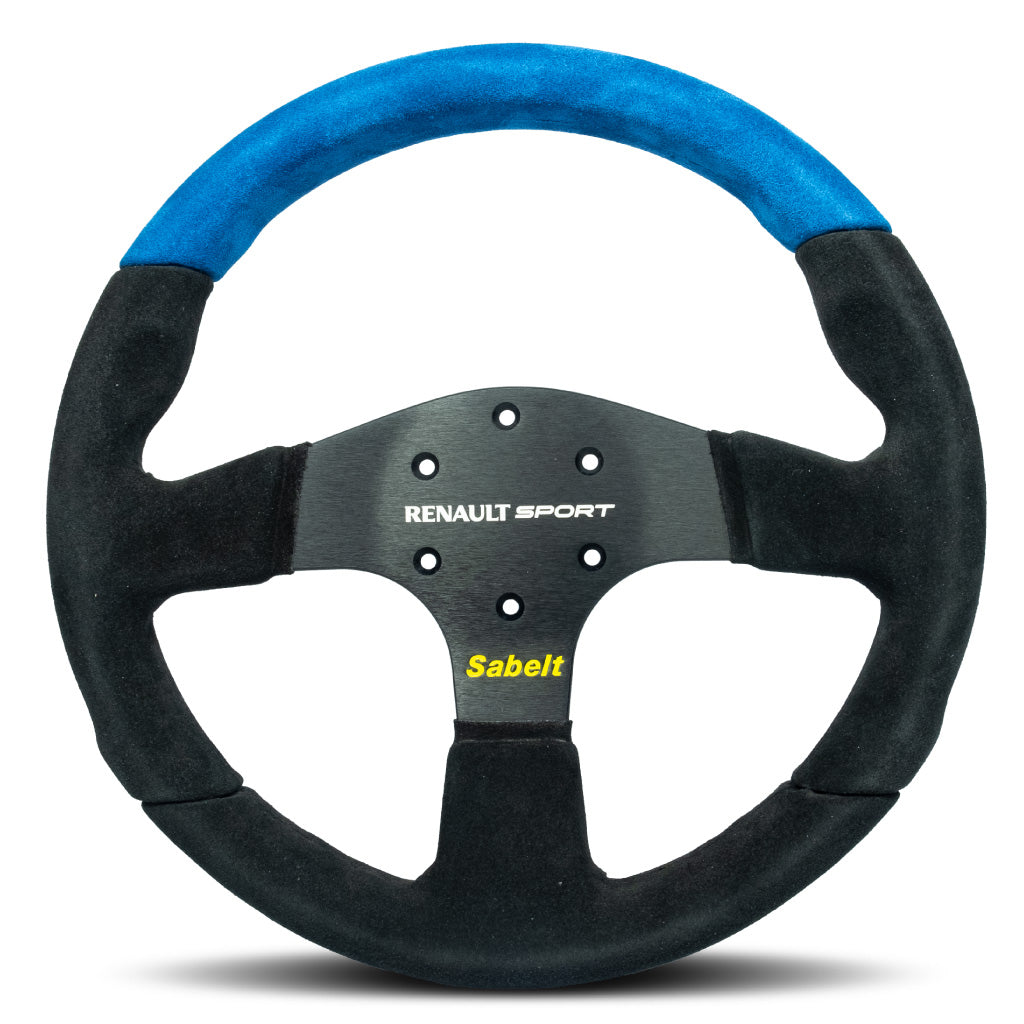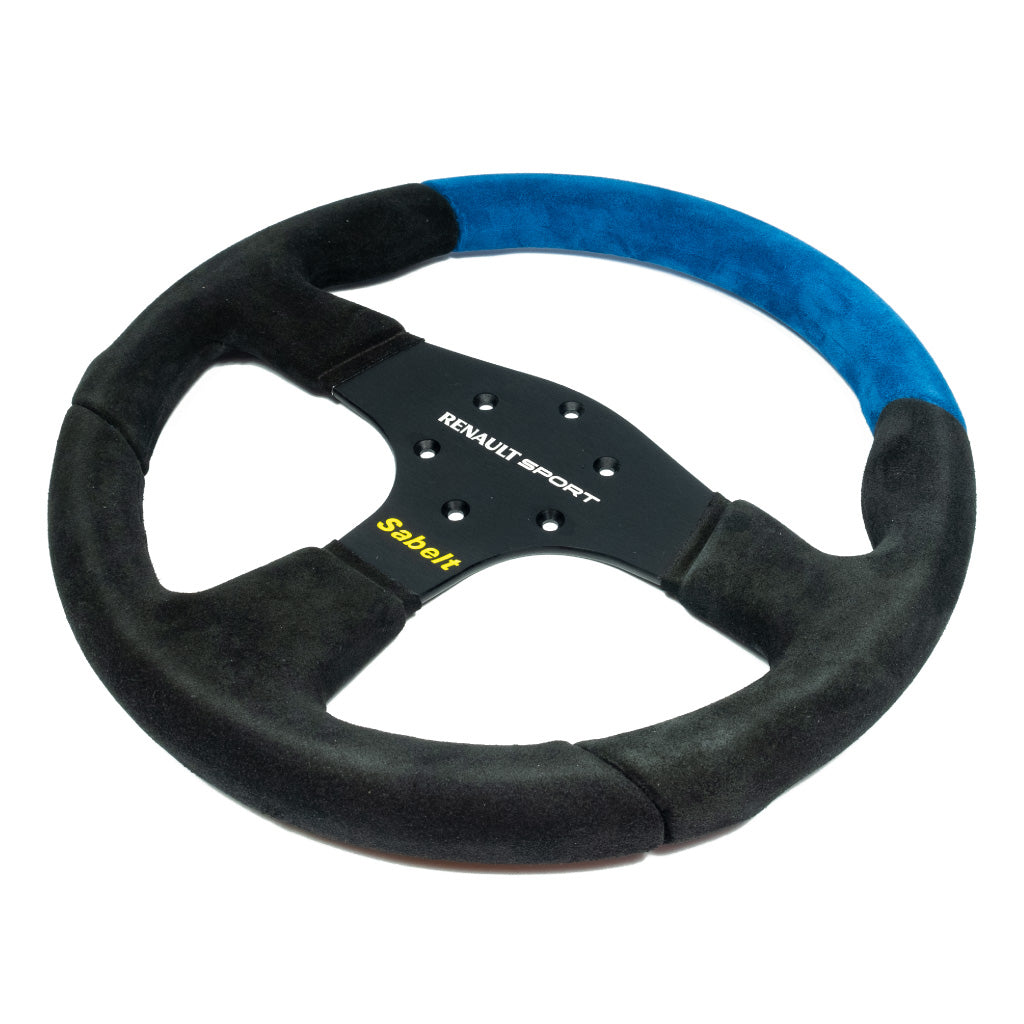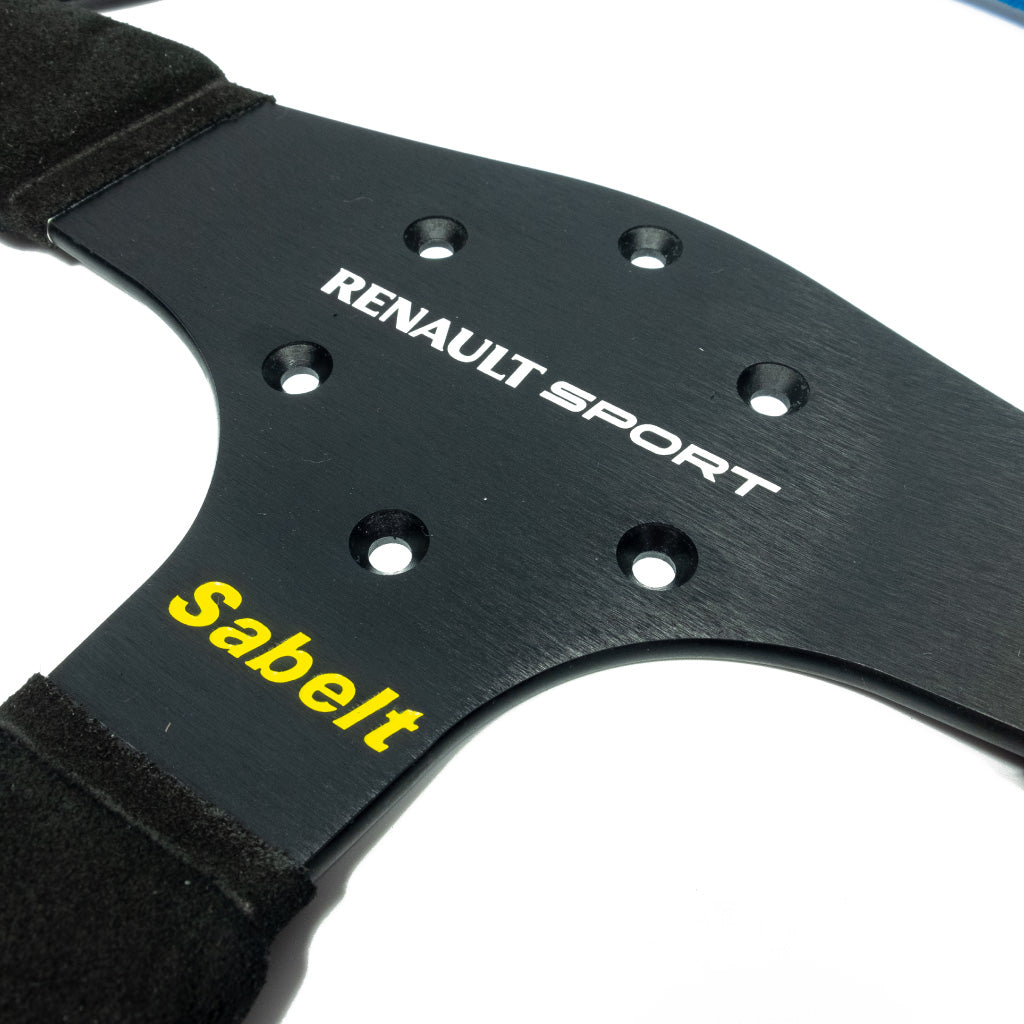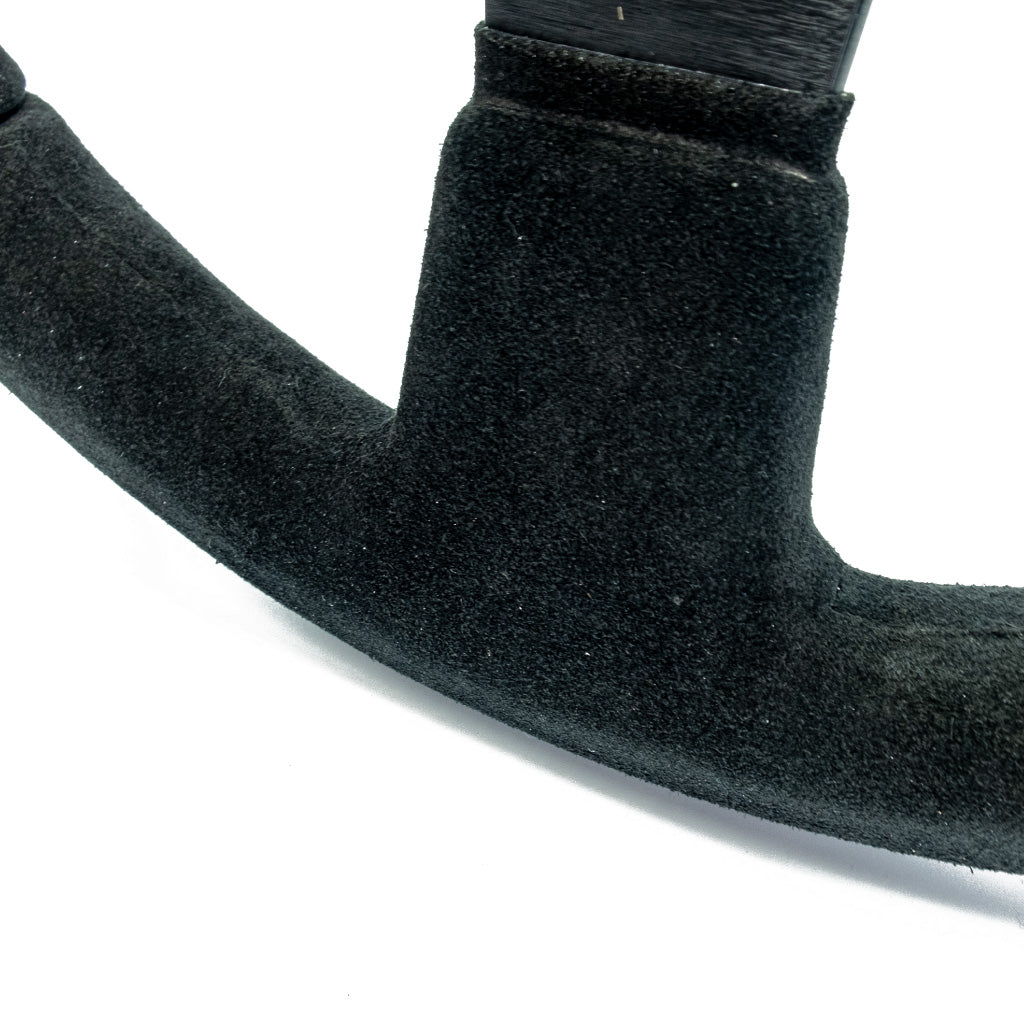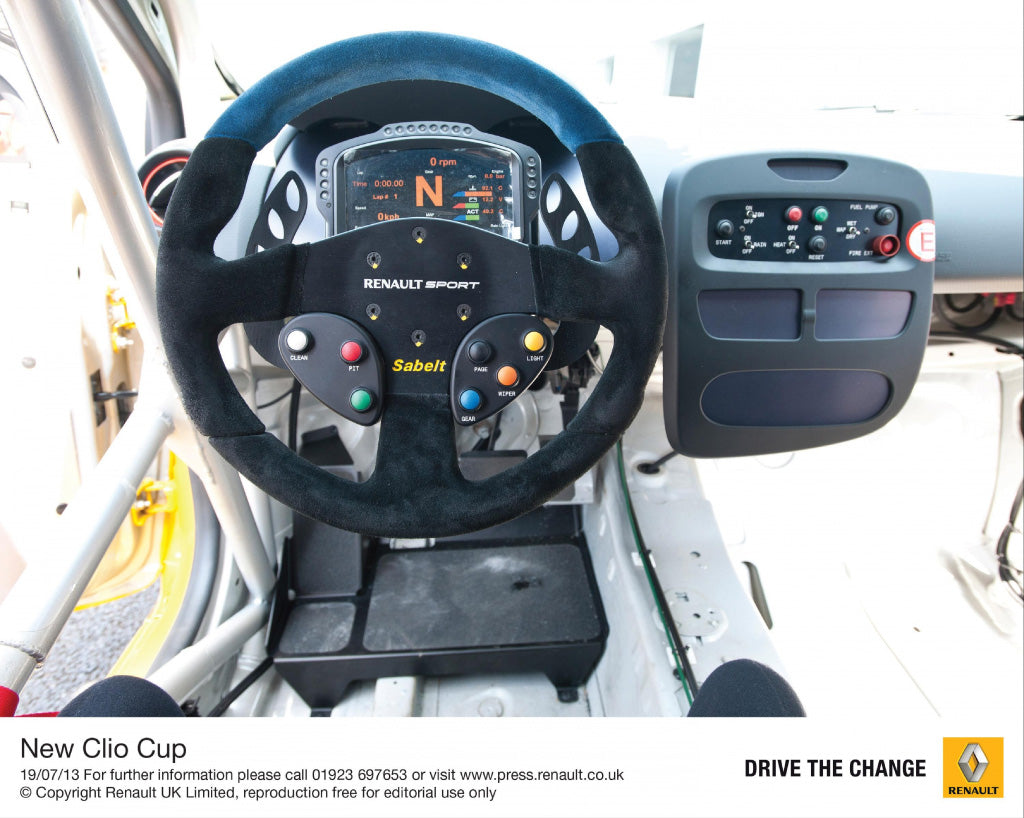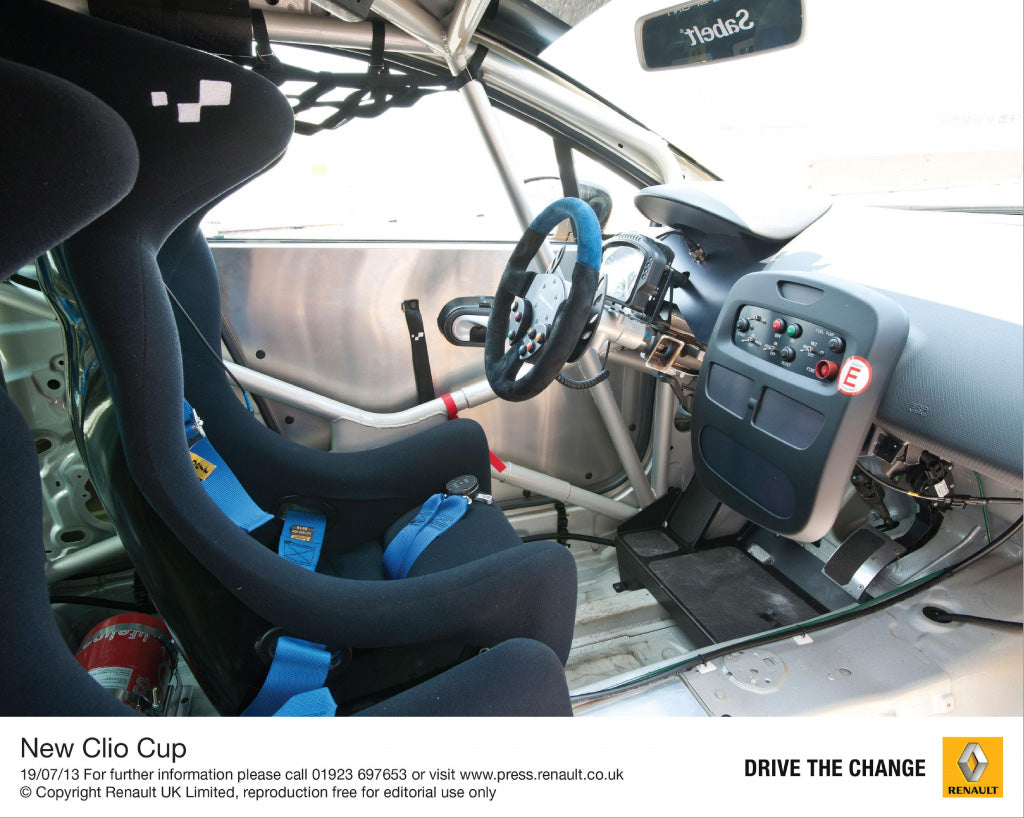 Sabelt Renault Clio Cup Race Steering Wheel - Black Blue Alcantara Black Spokes 330mm
In stock
To install this steering wheel in your car, you will need a hub/boss kit. Click the button below to find the right one for your vehicle.
This Sabelt Renault Clio Cup Race Steering Wheel is the genuine version of the steering wheel used in Clio Cup Racing competitions.
Originating from the racing world, this steering wheel features a premium finish with its Cup design and a full alcantara wrapping which gives an improved grip for better car handling on the track and a very comfortable feeling to the touch.
This 3 spokes flat dish steering wheel with a large grip measures 330 mm in diameter and can be easily mounted to every boss kit which supports 6x70mm PCD (Momo, Sparco, OMP etc.).
PLEASE NOTE: This steering wheel is exclusively reserved for closed-track use, and therefore is not allowed for open-road use. Its installation modifies the technical characteristics of the vehicle, and therefore this steering wheel is not homologated for open road use. Installation of this steering wheel will void the manufacturer guarantee of the vehicle and is subject to void insurance coverage contracted for the use of the vehicle. Installation of this steering wheel must be carried out by a professional.
Brand

: Sabelt

Alternative Product Number

: 7711160037 (Renault)

Diameter

: 330 mm

Dish Depth

: 0 mm

Grip Material

: Alcantara

Grip Colour

: Black

Stitching

: Seamless

Spoke Colour

: Black

Spoke Quantity

: 3

Shape

: Round

Steering Wheel Fitment

: 6x70 mm PCD

Made In

: Italy

Sabelt was founded in 1972 and started as a manufacturer of safety seatbelts for original equipment. Having achieved industry leadership, Sabelt has expanded its range by also dedicating itself to high-end sports road car accessories and niche markets, becoming the European leader in the development and production of 3 different businesses: Racing, OEM and belts for special applications.
From the Racing perspective Sabelt makes some of the finest racing steering wheels for any application. Premium materials and fine craftsmanship combine to offer a wheel that is extremely well built and timelessly beautiful. 6 mounting holes and the ability to be used with a quick release makes these wheels extremely modular in regards to mounting style and gauge/shift light configuration.