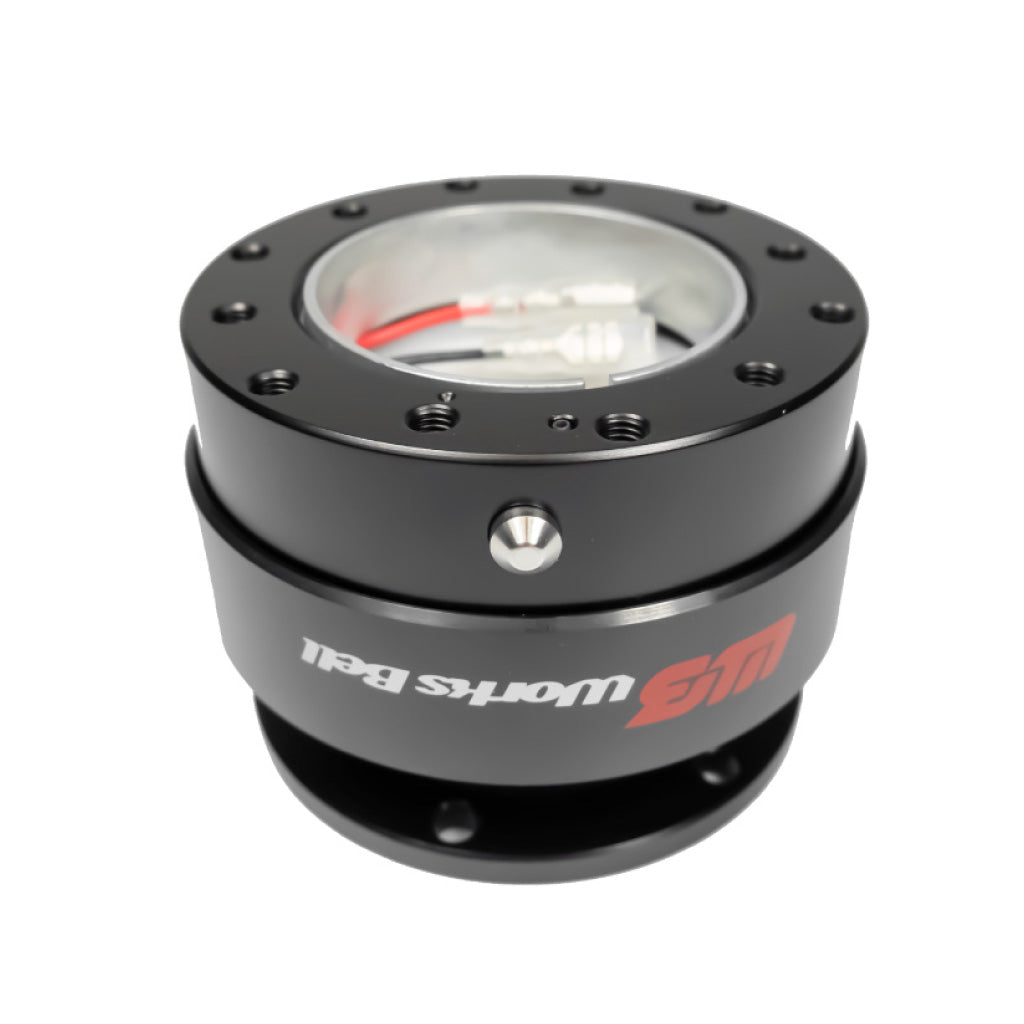 Works Bell RAPFIX 2 Steering Wheel Quick Release System Kit - Bolt-On - Black
Works Bell RAPFIX 2 steering wheel quick release is the original ball lock quick release, invented and patented by Works Bell, and made entirely in Japan. Used by the most respected racers and tuners in Japan, the RAPFIX2 has been battle tested for long life and durability.
Works Bell RAPFIX II quick release is particularly useful in racing and other high-performance driving situations where the driver needs to get in and out of the car quickly or switch out the steering wheel for different driving conditions. It also provides added security protection from theft when your vehicle is parked.
Works Bell RAPFIX2 systems are popular in the racing and motorsports world, but can also be used in street cars for added convenience and tuning options.
Works Bell RAPFIX 2 quick release consists of a plug that attaches to the steering wheel hub/boss kit, and a socket that attaches to the steering wheel. The plug and socket are designed to fit together securely and release easily with the push of a button.
The RAPFIX II includes built-in hidden terminals for the steering wheel horn button. This feature allows for easy removal and replacement of the steering wheel, without having to disconnect any wires or cables.
Cold forging manufacturing techniques are used in the Works Bell RAPFIX2 quick release to increase material strength. A specially treated and hard anodized sleeve greatly enhanced texture and wear resistance. Teflon coating is applied to the sliding surface (inner surface of the sleeve) of the socket to prevent scratching and to create a smooth sliding motion when releasing the sleeve.
This is NOT a steering wheel hub, this is an add-on to existing steering wheel hubs. RAPFIX2 quick release will only bolt to 6x70 mm patterned hubs and 6x70 mm & 6x74 mm bolt pattern steering wheels.
The "ball lock system RAPFIX" is a crucial safety element that is directly connected to how the steering works and our customers' safety. If inferior or inferior products of inferior quality and safety are used by accident, the likelihood of serious accidents occurring is very high. The "made in Japan" and "Works Bell" brand logos are silk-printed on the sleeve as evidence of RAPFIX's original products, and the patent number is laser-engraved on the plug.
Features:
No rattle, no movement, and no flexing when installed.
Pass through wiring for the aftermarket horn button.
Available in black, red, silver, orange, and blue colours.
174 grams lighter than RAPFIX.
Cold-forged A5056 aluminium alloy material for higher strength and better anodic colouration.
SUS304 stainless steel springs, SUJ ball bearings and SUS XM7 stainless steel cap screws.
Meets the safety standards set by ASEA (Auto Sports & Special Equipment Association).
Improved texture and wear resistance.
Teflon coating on the sliding surface to prevent damage to the socket and smooth sliding action upon sleeve release.
Anodized sockets and plugs to reduce wear and tear.
Patents:
Japan Patent No. 3704481
Japan Patent Pending Patent Application No. 2018-002277
Japan Patent Pending Patent Application No. 2018-002278
Japan Utility Model Registration No. 3215479
Brand

: Works Bell

Height

: 61 mm

Width

: 85 mm

Colour

: Black

Type

: Bolt-On

Steering Wheel Fitment

: 6x70 mm & 6x74 mm PCD

Hub Adapter Fitment

: 6x70 mm PCD

Weight

: 516 g

Made in

: Japan
Steering wheel quick release system
Horn button wire
Horn button retaining rings
Mounting hardware

Works Bell is Japan's premier automotive brand when it comes to manufacturing quality interior components. Works Bell offers an extensive lineup of paddle shifters, universal hub kits, spacers, auto cruise switch kits, U-turn harnesses, wiring plates, steering wheel accessories, flippers, and more! From its Rapfix, Legacy, and Boss series, the company is best known for its Rapfix quick releases.